Are you unhappy?
Do you feel overwhelmed?
Are you stuck or feel unable to take a decision?
Are you anxious or all prospects appear gloomy?



.
We offer private psychological counseling and therapy in challenging times and provide vision, clarity and enhanced self-esteem in difficult situations, with acute help or accompany you over longer periods with careful consultation in a variety of circumstances.
.
Are you in a crisis and need prompt and uncomplicated help?
Are you considering, but unsure whether a therapy is right for you, perhaps a short-term consultation might suffice?
Or do you simply prefer your personal matters and data not to appear via the health insurance system?
.
In that case our service might be right for you!
With substantial professional experience in therapeutic and social consultation, sensitivity, discretion combined with a good sense for pragmatic solutions, we are here for you to guide you through difficult times, flexibly and timely.
These may be triggered by various issues, ranging from sleep-depriving heart break to mobbing at work, from losing a sense of oneself inmidst juggling parenthood and professional obligations or the occasional excessive partying blurring perception – we offer individual psychotherapy, coaching and supportive companionship.
.
Contact us for an inital session:

+49 (0)157-58464533
kontakt@soulmates.berlin

We speak Englisch, German and Dutch
As certified practioners of psychotherapy we are not bound to the requirements of the statutory health insurance. We can start right away and are free in the method we choose, as cognitive behavioral, schematherapy, systemic (solution focussed) or art therapy.
We support you, look at your individual context and related issues, provide clarification and possible solutions. You may book single sessions or a support package.
Of course, we value discretion and are subject to obligatory professional confidentiality.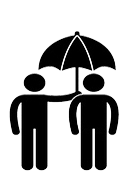 .
About making psychological support work for you
.
Costs:
First session 100€/60 min
1 session: 140€/60 min (transfer or chash)
4 sessions: 125€/60 min (500€ paid in advance)
10 sessions: 120€/60 min (1200€ paid in advance)
20 sessions. 115€/60 min (2300€ paid in advance)
Installment possible
Only private pay & some private insurances
If you are unable to attend your appointment please let us know as soon as possible. The required notice for cancellation is 48 hours. Where there is less notice, or if you fail to attend your appointment, the full fee will be charged. We hope clients appreciate that it is rarely possible to fill these appointments at such short notice which is why we are obliged to charge for the Therapist's time.
The therapist will give you as much advance notice as possible in the rare occasion that a future appointment needs to be cancelled and will offer an alternative appointment as soon as possible.
SOULMATES
Elbestr. 32
12045 Berlin – Neukölln
Read about us